Home Page
Parish Mission Statement
"We, the community of Seven Holy Founders, invoke the Spirit to lead us in worship, education and SERVICE. Through the teaching of Jesus, we are led by HOPE to promote healing. As people of FAITH, we support our Parish with our time, talent and treasures."

TO VIEW LIVESTREAM OF MASS AND VIDEO MESSAGES: Click Here
The Rectory Office will be closed Monday October 3rd
Join us for a delicious Spaghetti Dinner Sunday, October 16, in the Parish Hall 4:00-6:30pm $10 per adult & $5 per child Cash or debit/credit cards accepted Meal includes spaghetti & meatballs, Ron & Shirley's salad, garlic bread & dessert Bring family and friends as we enjoy a nice Sunday meal together with fellow parishioners! Please consider signing up to volunteer to help work the dinner at: https://www.signupgenius.com/go/9040E44ABAB2FA02-seven1
To Register for an ALL Things New Listening Session
at Seven Holy Founders. Click here
The sessions will be on Tuesday November 8th and Thursday November 10th from 6:00pm to 8:00pm

FAQ's About All Things New Listening Session Click here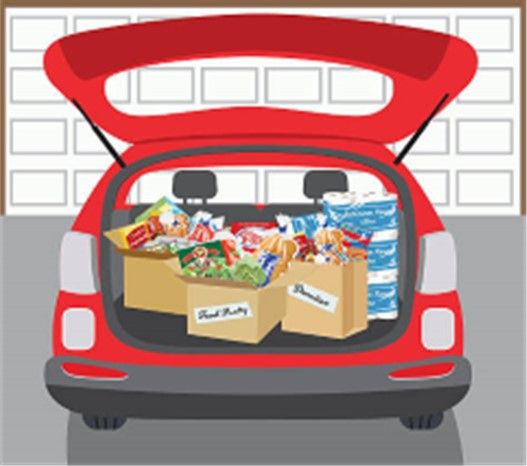 Our St. Vincent de Paul Society is participating in the FILL THE VAN promotion for the Affton Christian Food Pantry (ACFP). The ACFP serves families that reside in the 63123 zip code and is supported by its fifteen member churches, one of which is SHF. The Pantry serves over 250 families every two weeks. The ACFP Van will be parked in the front of SHF Church Saturday, October 1st and Sunday, October 2nd. You will able to drop off your donation before or after Mass on both days. Monetary donations will also be gratefully appreciated.
St. Augustine said we will be restless until we rest in the Lord, but he didn't say we had to wait for eternal union with God to experience a foretaste of this fulfillment. Join me and fellow parishioners for a workshop designed to help us build up our spiritual self-esteem. We'll discover new ways to move past our misconceptions, doubts, and fears about God's love for us. We'll gain a better understanding of our true purpose. The workshop meets for four consecutive Wednesday evenings beginning next Wednesday, October 5th in the Mary Room from 7-830pm. If you plan to attend, let me know by sending an email to tschills1@gmail.com. I look forward to seeing you.
Notes from Our Pastor


Fr. John Brennell

Keep in touch with us via email and text at sevenholyfounders.flocknote.com
or text SHF1927 to 84576!
If you were signed up for FlockNotes but are no longer receiving the messages, please contact the Rectory at 314-638-3938 as we may need to re-verify your account.
FORMED The Catholic Faith. On Demand.
Please click here for more information on how to sign up.
SHF Men's ACTS Retreat 12/1-12/4
Photo by Stephen Immer
Rectory Address:
6820 Aliceton
St. Louis, MO. 63123
314-638-3938
Office Hours
Monday-Thursday:
8:00 a.m. - 3:00 p.m.
Friday: 8:00 a.m. - 12:00 p.m.
Mass Schedule
Weekend Masses:
Saturday: 4:30 p.m.
Sunday: 7:00 a.m, 9:00 a.m. & 11:00 a.m.
Contemporary music at 11:00 a.m.
Weekdays, Monday thru Friday: 8:00 a.m.
THE PRECIOUS BLOOD WILL BE OFFERED AT SATURDAY 4:30PM MASS AND SUNDAY 9:AM MASS.
Reconciliation:
Saturday: 3:15-4:00p.m.
or by appointment
Coffee and Donuts in the Mary Room after 8 am Mass on Wednesdays.
Windows and Wine
10/15 after 4:30 Mass

Upcoming Events